Problems with your flight? Claim and receive a compensation


Flying can be a fantastic experience in a fast and comfortable conveyance. But sometimes things get complicated, the flight is delayed, or even canceled, the suitcase gets lost,… And that's where a pleasant trip starts to turn into a nightmare. But complaining about problems with your flight has an easy solution. We tell you how to do it.
Claim the airline
If you have time and patience, you can undertake the claim on your own. The process can become very tedious because airlines ignore passengers. Sometimes claims end up in court and, as an individual, it can be a bit scary to face an airline in court (we don't even talk about when that company is in another country).
Although compensation is established by law and depends on the distance of the flight (ranging from € 250 to € 600), airlines don't usually easily admit that the delay is due to an internal cause and don't compensate users easily. So if you decide to take this route, we wish you good luck and we ask you to tell us how it went.
Claim through a claims agency
This imposing process made travelers choose not to claim their rights. However, there are already several companies that are dedicated to it for you.
Today we present you Air Help, a company specialized in claiming your compensation for (among others) delays in your flights. The procedure is very simple, just follow the steps that are marked on their website. Of course, you will have to have at hand the tickets and the identifications of all the people whose flights you are going to claim. Once all the documentation is uploaded, they get to work to formalize your claim and send you notifications by mail so you know the status.
As we have told you, sometimes the claim ends up in a court, but they also take care of all the paperwork.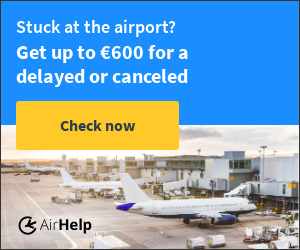 What does Air Help get out of all this?
The company gets a commission on the amount of your claim which is (as of the date of this post) 35% for the claim plus 15% if legal action must be taken.
It may seem like a high commission, but considering that most of the passengers have suffered delays and have not claimed anything at all, with 65% we already have more than we would have without claiming. And all with a simple process in which you don't have to pay a fee in advance. Just send your data and wait for them to resolve your claim.
Have you ever used this type of service? What has been your experience?
Posted in Travels , tips
March 22, 2021
REPLIES